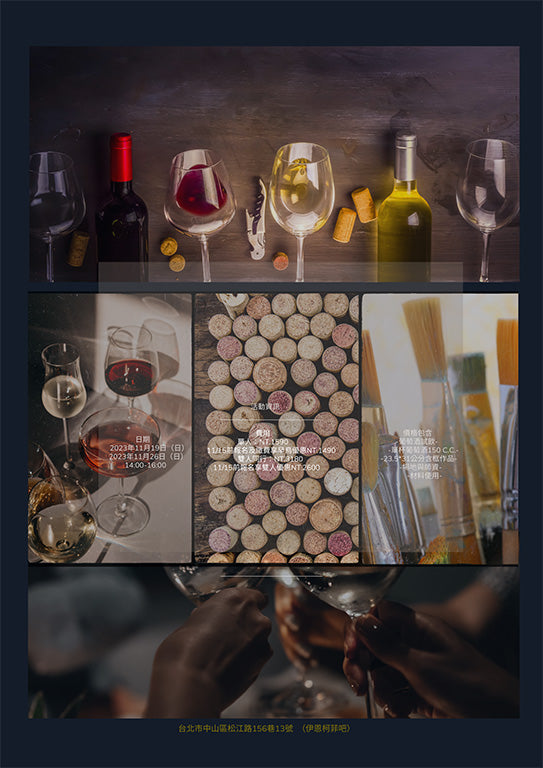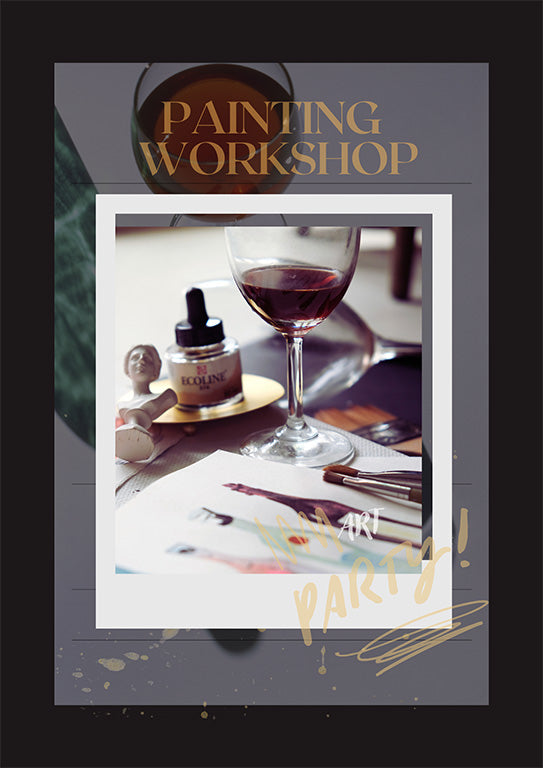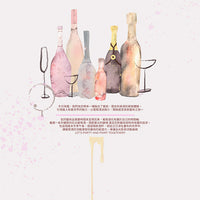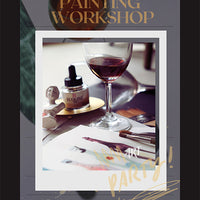 November wine tipsy painting
As winter approaches, we bring you an experience that combines art, history and wine. Using wine as a medium, we start a journey of sensory exploration of art~
Just like a work of art that takes time to appear perfect, wine also has its own timeline;
A series of high-quality red and white wines are carefully selected, paired with the rhythm of the pen tip, to satisfy your pursuit of art and fashion taste buds.
On this late winter afternoon, immerse yourself in the world of canvas by sipping from a glass of wine.
Let the flow of wine inspire your artistic creativity and unleash light, shadow and flowing curves
let's party and paint together!!!
           ☆Course activity information☆
Date: November 19, 2023 (Sunday)
            November 26, 2023 (Sunday)
Time: 14:00-16:00
Suitable for those who are interested in painting
                   Or adults who want to have an early autumn date through painting and autumn.
Location: No. 13, Lane 156, Songjiang Road, Zhongshan District, Taipei City (Ian Coffey Bar)
Tuition Fee: Single Person:  $1590
Register and pay before 11/15 to enjoy an early bird discount of $1,490
            Traveling in pairs: NT.3180
            Register before 11/15 to enjoy a discount of $2600 for two persons
    ————————————————————————                       
    ⚡ The above price includes   
     ➡Wine tasting (30 cc each of red/white/pink wine)
     ➡Single glass of wine 150 cc
     ➡ 23.5*31 cm framed work
     ➡Venue and teachers
     ➡Japanese imported watercolor paper/Haobin paint/Dutch Terrence ink/watercolor brush/paper frame/painting related utensils and materials used
      ♥Drinks will be provided on the day of the course♥
    -Santa Helena Varietal Chardonnay
    -Montes Classic Cabernet Sauvignon
    -LA VIEILLE FERME Luberon Rosé
    -Berry sparkling drink
    -Sicilian coffee
→You can learn from this physical course
*Technical guidance for individual students from brushstrokes to media control
*Control the color depth and lightness from basic media moisture and brushstroke control.
Use the principles of color science to draw exclusive warm autumn memories
*Application of rendering techniques for water-based media:
Gradual suture method and wet-in-wet technique
*Teach students in accordance with their aptitude; adapt to the questions and dilemmas students face when painting, propose solutions suitable for them, and adjust their learning curve.
  There is also an art experience of afternoon tea with friends in the early autumn afternoon! !
▶Registration deadline:
 From now until 11/17
▶ Precautions
1. The event is conducted under a real-name system and cannot be transferred or resold at will. If the organizer finds out, the registration qualification will be cancelled.
2. To ensure quality, the event has limits on the number of participants and number of participants. Please respect the regulations to achieve the best experience.
3. If the event cannot be held as scheduled due to natural disasters, accidents or other force majeure events, the organizer will notify you by email and will reschedule or cancel the event depending on the situation.
4. This event is non-refundable.
5. The personal information you fill in will only be used for contacting this course. The organizer will collect and process personal information in accordance with the "Personal Data Protection Act".
6. The organizer reserves the right to make final interpretations and changes to event content.
7. If the minimum number of people for the class is not reached, you will be notified by email three days before the event and a full refund will be issued.