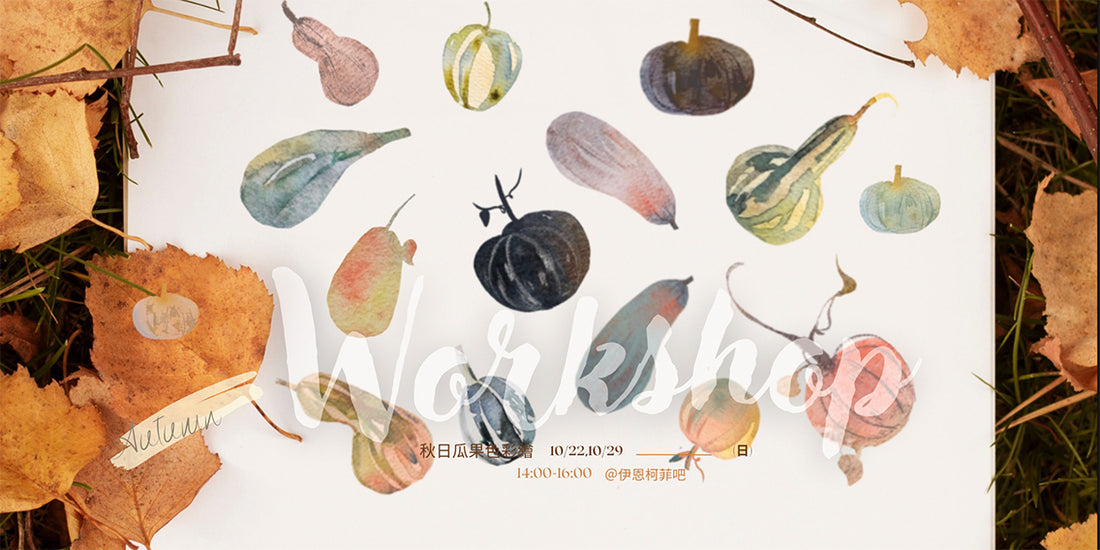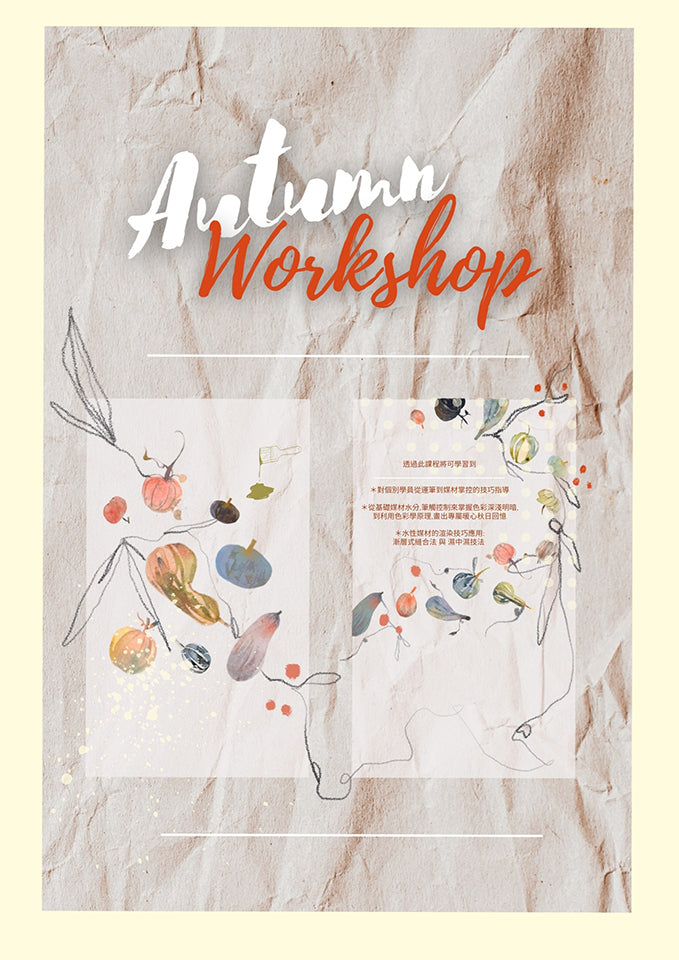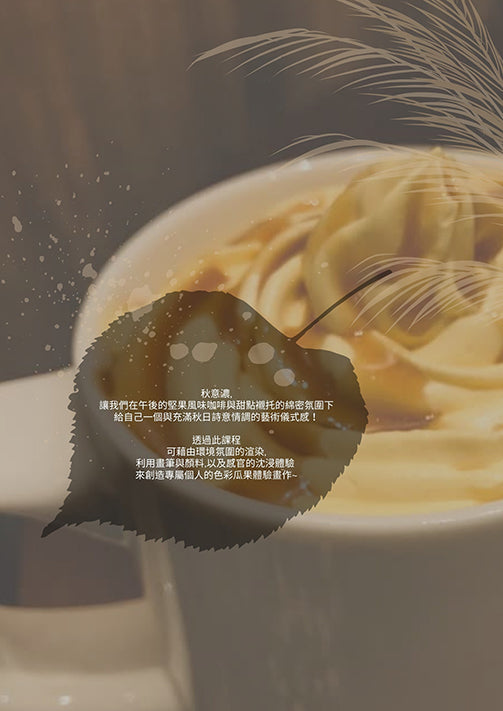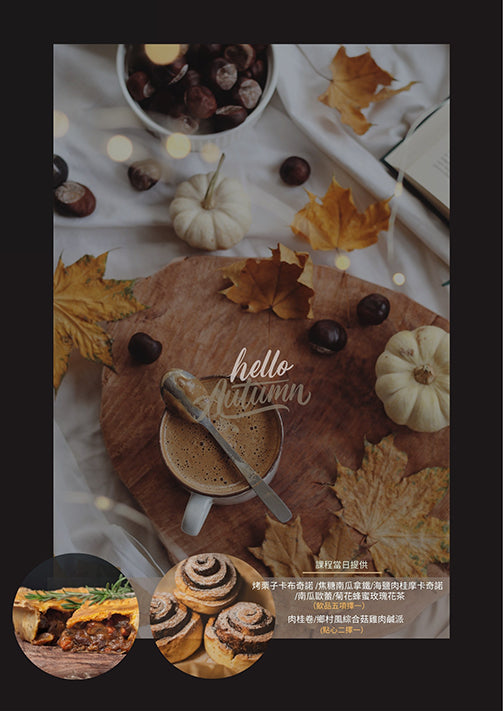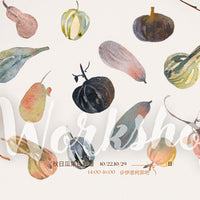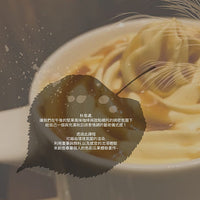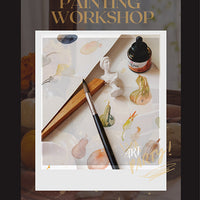 October autumn melon and fruit afternoon tea painting
late autumn,
Let's enjoy the intimate atmosphere of afternoon nutty coffee and desserts
Give yourself an artistic ritual full of autumn poetic sentiment!
           ☆Course activity information☆
Date: October 22, 2023 (Sunday)
            October 29, 2023 (Sunday)
Time: 14:00-16:00
Suitable for those who are interested in painting
                   Or adults who want to have an early autumn date through painting and warm autumn tea.
Location: No. 13, Lane 156, Songjiang Road, Zhongshan District, Taipei City (Ian Coffey Bar)
Tuition Fee: Single Person:  $1380
Register and pay before 10/15 to enjoy an early bird discount of $1,280
            Two people traveling together: NT.2580
            Register before 10/15 to enjoy a discount of $2480 for two persons
    ————————————————————————                       
    ⚡ The above price includes   
     ➡Autumn limited flavor afternoon tea set (coffee/tea + snack)
     ➡ 23.5*31 cm framed work
     ➡Venue and teachers
     ➡Japanese imported watercolor paper/Haobin paint/Dutch Terrence ink/watercolor brush/paper frame/painting related utensils and materials used
      ♥Drinks and snacks will be provided on the day of the course♥
    -Roasted chestnut cappuccino/caramel pumpkin latte/sea salt cinnamon mochaccino/pumpkin au lait/dairy honey rose tea (choose one from five drinks)
    -Cinnamon Roll/Country Style Mixed Mushroom Chicken Savory Pie (Choose one of two snacks)
→You can learn from this physical course
*Technical guidance for individual students from brushstrokes to media control
*Control the color depth and lightness from basic media moisture and brushstroke control.
Use the principles of color science to draw exclusive warm autumn memories
*Application of rendering techniques for water-based media:
Gradual suture method and wet-in-wet technique
*Teach students in accordance with their aptitude; adapt to the questions and dilemmas students face when painting, propose solutions suitable for them, and adjust their learning curve.
  There is also an art experience of afternoon tea with friends in the early autumn afternoon! !
▶Registration deadline:
 From now until 10/20
▶ Lecturer introduction
Cielo Li/Li Tianyu
Fashion Design Group, School of Textiles and Clothing, Fu Jen University
NOTTINGHAM UNIVERSITY,UK MASTER OF FASHION
-Lecturer of Fashion Innovation Program at Ming Chuan University
-FOREVER 21, ZARA
-NEXT,H&M
/Brand Live Events/Fashion Illustration Teaching
/Still life painting teaching/Customized painting commission
website: https://reurl.cc/kX80aL
Precautions
1. The event is conducted under a real-name system and cannot be transferred or resold at will. If the organizer finds out, the registration qualification will be cancelled.
2. To ensure quality, the event has limits on the number of participants and number of participants. Please respect the regulations to achieve the best experience.
3. If the event cannot be held as scheduled due to natural disasters, accidents or other force majeure events, the organizer will notify you by email and will reschedule or cancel the event depending on the situation.
4. This event is non-refundable.
5. The personal information you fill in will only be used for contacting this course. The organizer will collect and process personal information in accordance with the "Personal Data Protection Act".
6. The organizer reserves the right to make final interpretations and changes to event content.
7. If the minimum number of people for the class is not reached, you will be notified by email three days before the event and a full refund will be issued.